24.5.2018 - JAY OTTAWAY & BAND ( USA / Deutschland)
West Coast Blues Rock aus USA/GER
Blues, Folk, Country, Rock, Singer-Songwriter
Jay Ottaway ist ein Singer-Songwriter und Produzent aus Boston/USA.
In seinen Songs, die ihm bereits mehrere Auszeichnungen einbrachten, lässt sich die Bewunderung für Künstler wie Bob Dylan, Neil Young, Levon Helm/The Band oder Eric Clapton nicht verbergen.. Sie klingen vertraut und dennoch neu.
Seine letzten zwei CD's "Coming Home to You" (2012) und "Carry On" (2014) sind auf dem deutschen Plattenlabel CACTUS ROCK RECORDS erschienen und in der Rockpresse hochgelobt. Steve Braun von Rocktimes schreibt: "Ich bin von Jay Ottaways "Carry On" tatsächlich begeistert und zwar hochgradig. Ein heißer Kandidat für mein 'Album des Jahres' - ein ganz siedend-heißer..."

Jay kommt jedes Jahr für mehrere Monate nach Europa und geht dann mit seinen langjährigen Musikerfreunden aus Köln auf Tour.

Die Band
Jay Ottaway - Guit./Voc.
Heinz-Bernd Hövelmann - Giut./Voc.
Shawn Spicer - Sax/Voc
Frank Tetzner - Bass/Voc.
Tom Gerke - Drums
Markus Grieß - Keyboards
2.6.2018 - FESTIVAL AM SEE, NORDERSTEDT STADTPARK, WALDBÜHNE
mit den DELTA SAINTS und JETBONE ( Schweden )
Beginn: 18°° um 22°° Uhr müssen wir leider aufhören.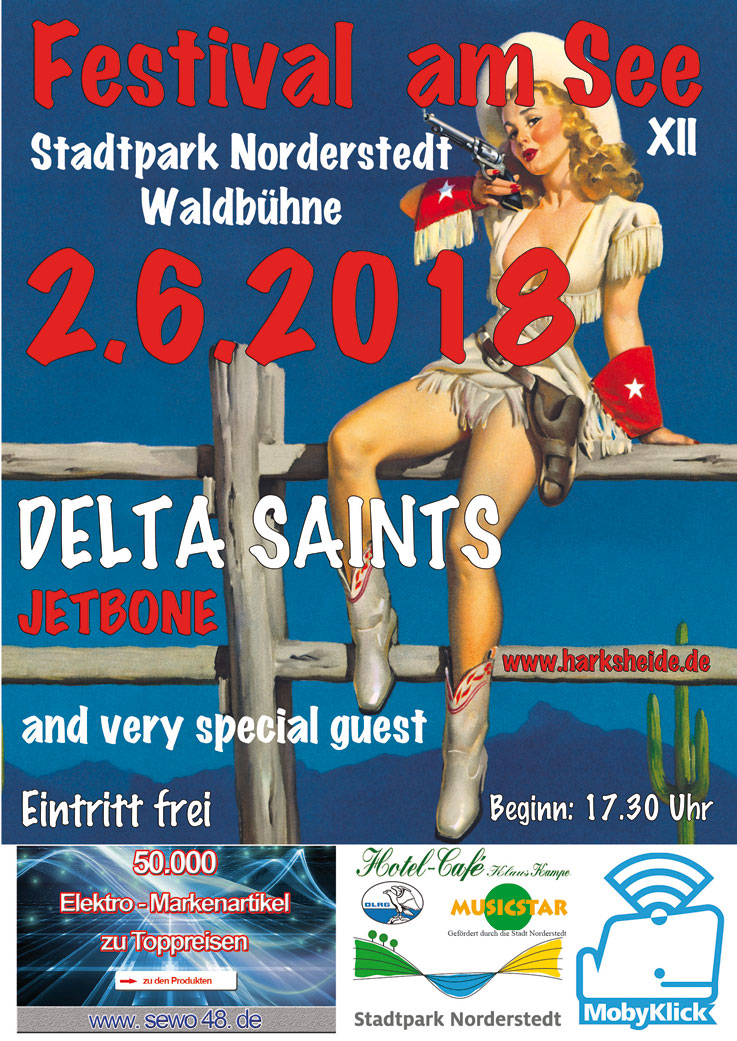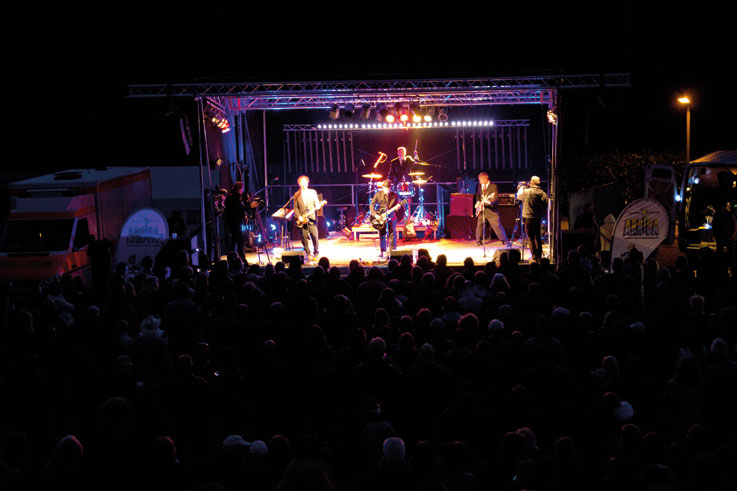 4.6.2018 - WOODY PINES ( USA )
Roots music hotshots Woody Pines have wowed the crowds on both sides of the Atlantic and last time they toured the UK, reviewers unanimously declared them to be one of the most entertaining acts on the Americana circuit. These Muddy Roots Records stars count BBC Radio 2's Bob Harris as a fan – he invited them to appear on the stage he hosted at the C2C event in London's 02 arena. The trio was one of the headline acts previously flown over to Scotland to take part in Glasgow's Celtic Connections mid-winter bash, included for their "fiery moonshine spirit that sparkles with feelgood freshness". This is a band that counts some other big hitters as fans, including Outlaw Country legend, Billy Joe Shaver. When he followed them at the big Nelsonville Folk & Blues Festival, Billy Joe came on stage and declared: "They're the best damn band I've ever heard!"
What the Press are saying:
"Go and see them, you won't regret it"! – American Roots UK
"Something for everyone – and huge fun" – fRoots magazine
"When showtime comes you just know these guys will rip it up!" – Acoustic magazine
video   video   www.woodypines.com  nodepression.com/album-review/woody-pines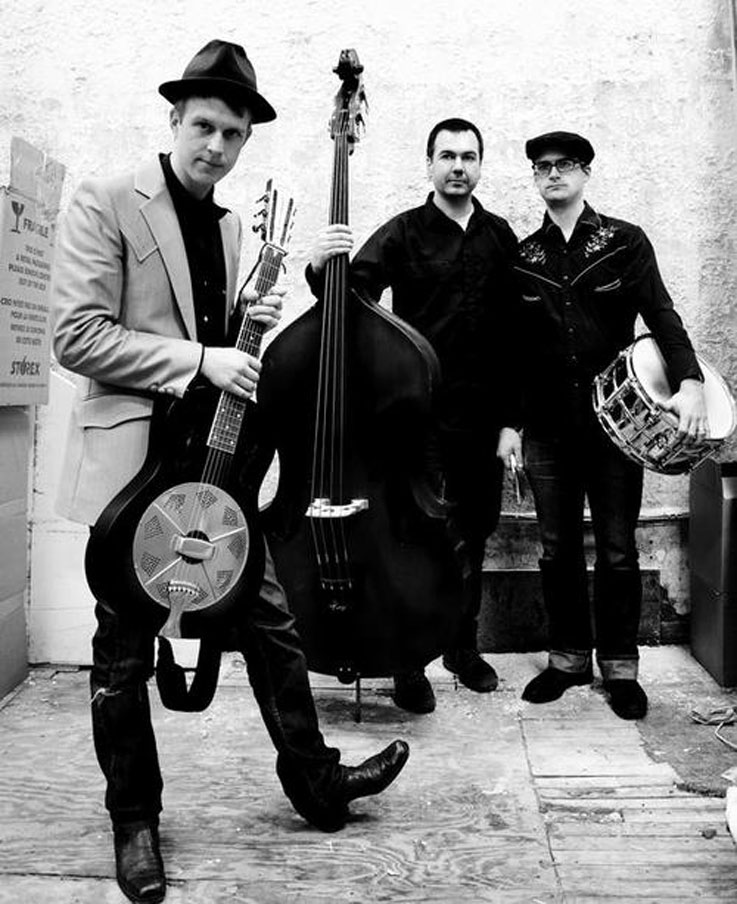 8.6.2018 - ANNIE KEATING TRIO ( USA )
Talent spotted by BBC Radio's Bob Harris, Keating appeared live on the Bob Harris show in 2008 (and again in 2011), and has gone on to perform at leading national and international festivals including Take Root (Netherlands), Glasgow Americana Festival (Scotland), the NJ Folk Festival, The Brooklyn Indie Music Fest, Maverick (UK), NXNE (Canada) and The Brooklyn Americana Fest. She has performed on the bill with John Hiatt, Dan Bern, Bon Iver, Danni Nichols and other great artists.
​
The newest album, "Trick Star" is Annie Keating's 7th and most critically acclaimed release to date. She just finished a 30 show international tour and released a new single, "Trouble."

Keating's voice is not flashy, nor perhaps conventionally pretty. It has more of a mysterious, rough-hewn beauty that comes out of the shadows. She offers a captivating and unfashioned, natural delivery of songs born from authentic reverie.
"A wise mix of Lucinda Williams songwriting, Gillian Welch guitar and a vocal all her own… a cross between Willie Nelson and John Prine and you don't get any better than that." The Village Voice
​
"Twang-infused folk storytelling with blissful tooth and grit." Twangville

"Comparisons to Gillian Welch and Bonnie Raitt all ring true, yet what ultimately impresses is the intimacy and emotion etched in beautiful ballads." Performing Songwriter

"One to watch. Honest, captivating and authentic. Fine songwriting for the 21st century." BBC Radio Scotland (Iain Anderson)
"Honest, refreshing." NEW YORK POST

"Country-rock, with a renegade bite." LA Weekly

"Keating is well equipped to blow the socks off any self-respecting, sock-wearing Americana fan ... a true musical craftsperson." Northern Sky

"Tenderly meaningful folk Americana exactly as it should be heard." Folk Words

"She writes beautiful stories." Americana Roots Review
​
"One of the most refreshing female acts to come down the pike in a long, long while ... Deep and provocative songs."
Maverick Magazine

"Keating navigates the Americana environs inhabited by Emmylou Harris, Patty Griffin and Lucinda Williams, and in doing so, proves she's every bit their equal." No Depression
www.anniekeating.com  Bob Harris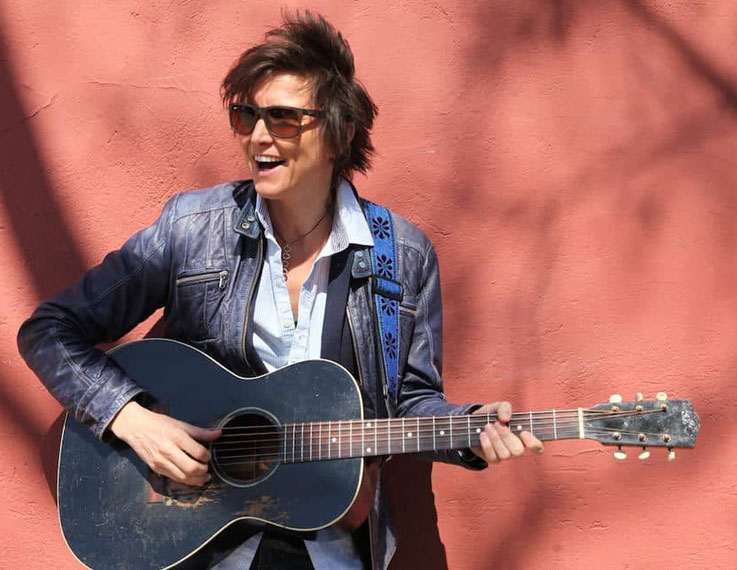 10.6.2018 - MATT WOODS AND THE NATIONAL DISASTER ( USA )
Wer das klasse Konzert im letzten Jahr von Matt Woods und seiner famosen Band "The National Disaster" verpasst hat kann dies nun nachholen. Diesmal ist er mit der kompletten Band auf Europa Tour.
Matt Woods is an americana, country and southern roots songwriter from Knoxville, Tennessee who spends a hell of a lot of time on the road, playing his songs for anyone who cares to listen. "Some folks call what I do Americana, but I have a hard time putting a label on things like that. A lot of my songs are very much based in classic country music while others are grounded in straight forward and greasy rock'n'roll," Woods explains. "I write what is ready to come out and try to be as honest as I can about it."

2014 brought the release of Woods' 2nd full length studio album, With Love From Brushy Mountin, which was met with much critical acclaim. After performing over 400 shows in support of that album, several festival appearances including Gasparilla Festival, Muddy Roots, Moonrunners, Fest 13, Wildwood Music Festival and a recent European tour, Matt is touring the US in preparation for a mid-year 2016 release. Along the way, he has shared the stage with the likes of Chris Knight, Black Oak Arkansas, Bobby Bare, Frank Turner, Roger Alan Wade, Zac Brown, Drivin' n' Cryin', Will Hoge, Roger Clyne (of The Refreshments), CAKE, Robbie Fulks, The White Buffalo, The Black Lillies and others.
12.6.2018 - DAN BAIRD AND HOMEMADE SIN ( USA )
Er spielt die Gitarre, die einst Steve Marriott von den SMALL FACES gehörte, er singt sich bei jedem Konzert die Seele aus dem Leib, er rockt wie die Hölle und er lässt nicht nach, bis der ganze Saal springt, tanzt und fast genauso schwitzt, wie der Mann auf der Bühne.
Wenn sich DAN BAIRD seine Telecaster umschnallt, dann ist Rock'n'Roll allererster Güte angesagt. Als Leadsänger der legendären GEORGIA SATELLITES stürmte er in den 80ern die Charts mit "Keep Your Hands To Yourself" und genauso wie sein Solo-Hit "I Love You Period", läuft das heute noch in den Rock-Radios rauf und runter.
Aktuell ist er mit seiner eigenen Band - HOMEMADE SIN - unterwegs und in den meisten anderen Genres würde man bei HOMEMADE SIN längst von einer "Supergroup" sprechen: Neben Mauro Magellan – Georgia Satellites Ur-Drummer und der Rock'n'Roll-Schlagwerker schlechthin – gehören noch Bassist und Spaßvogel Keith Christopher (ebenfalls Ex-Georgia Satellites) sowie Warner E. Hodges zur Band. Letzterer war mit seiner Stammkapelle JASON AND THE SCORCHERS und seinem rasiermesserscharfen und energiegeladenem Gitarrenspiel maßgeblich an der Entstehung von Cow-Punk und wildem Country-Rock'n'Roll beteiligt.
Schon jeder für sich wäre ein Garant für eine schweißtreibende, mitreißende Rock'n'Roll Show. Zusammen sind sie ein Rock-Schlachtschiff, das aus allen Rohren feuert.
Ob alte Satellites-Kracher, wie "Railroad Steel" "Nights of Mystery", Solo-Hits, wie "Look At What You Started" und "Younger Face" oder auch Coverversionen von AC/DC bis Bob Dylan - es gibt kein entrinnen wenn Dan Baird und seine Mitstreiter die Verstärker anwerfen. Dann wird gerockt, bis auch das letzte T-Shirt durchtränkt, und aus allen Kehlen mitgesungen wird:
"Keep your hands to yourself!".
Wenn jemand heute noch die Fahne des ursprünglichen, harten, lauten Rock'n'Roll hoch hält, dann ist es DAN BAIRD & HOMEMADE SIN!

www.danbairdandhomemadesin.net

13.6.2018 - THE BURYING GROUND ( Canada )
"If you've ever yearned to be transported into times bygone or just needed a balm for your old soul, The Burying Ground will take you straight into the sweetest broken-hearted foot-tapping realm of your dreams, an experience considerably cheaper than building a time machine. Starting out as a duo in early 2014 and hailing from Vancouver, BC, Woody Forster (vocals, resophonic guitar), and Devora Laye (vocals, washboard, saw, kazoo) have been charming modern hearts all over western Canada, lending new life to old songs while composing original tunes that sound straight out of the 20s and 30s. Spinning Ragtime, Jazz, and early Blues and Country into a musical tapestry that will keep you warm on your most lonesome nights. Woody's deep, whiskey-soaked, smoke-ringed rasp and Devora's sweet feather touched honeycomb bell tones will roll you into an old time reverie.
Shedding light on aspects of the human experience that resonate into the modern day, The Burying Ground is not just your great-grandpappy's band, as they touch on mental health, the traumas of war, social justice, sorrow, strength, determination, and good old fashioned lost and found love. They'll break down your pain while having you up and dancing away your blues."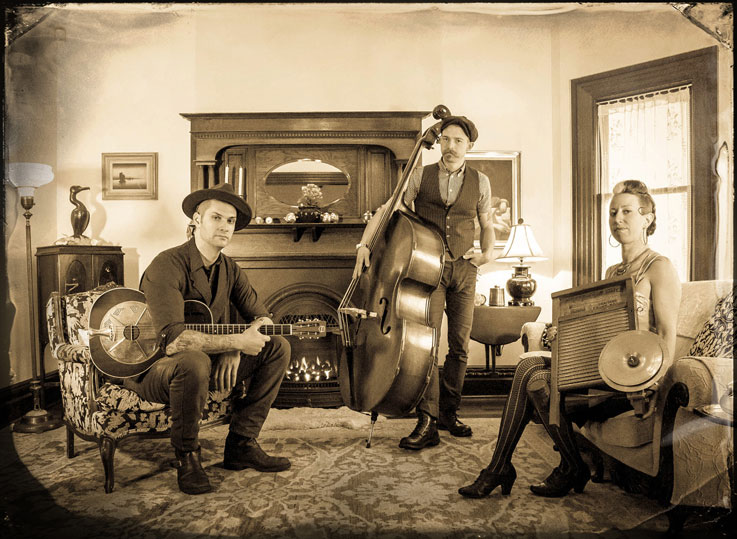 nach der ersten kurzen fussballbedingten Sommerpause 2 Konzerte:
13.7.2018 - CORDOVAS ( USA )
17.7.2018 - BONNIE BISHOP ( USA )

und dann nach der "richtigen" Sommerpause:
19.8.2018 - TERRY LEE HALE ( USA )
22.8.2018 - THE BROADCAST ( USA )
26.8.2018 - JOHN BLEK ( Irland )
28.8.2018 - JEFFREY FOUCAULT & BAND and DUSTY HEART ( USA )
31.8.2018 - TRI CONTINENTAL ( Canada )
2.9. - JOSH SMITH & BAND ( USA )
6.9. - THE SEXTONES ( USA )
24.9.2018 - DIRT RIVER RADIO ( Australien )
 
26.9.2018 - PHILIP BÖLTER ( Deutschland )
29.9.2018 - TIM & JACKSON GRIMM ( USA )
11.10.2018 RAY COOPER ( England )

13.10.2018 - FESTIVAL IM KULTURWERK XVIII mit LYNN HANSON & THE GOOD
                          INTENTIONS ( Kanada ) und VAUDEVILLE ETIQUETTE ( USA )
16.10.2018 - DELTA MOON ( USA )    
20.10.2018 - MARTIN HARLEY ( England )                                                          
24.10.2018 - JESSE BARDWELL & THE FREE UNION ( USA )
26.10.2018 - MINNIE MARKS & HUSSY HICKS ( Australien )
30.10.2018 - ROBERT JON AND THE WRECK ( USA )
1.11.2018 - ERIC STECKEL & BAND ( USA )
3.11.2018 - FESTIVAL IM KULTURWERK XIX with very special guests
20.11.2018 - ERIC BRACE & TOM JUTZ ( USA )
24.11.2018 - KAY KANKOWSKI & BAND ( Deutschland )
27.11.2018 - THE TRONGONE BAND( USA )
29.11.2018 - UNCLE JIMMY ( Holland )

Aktueller Stand immer hier
Datei Download als word und / oder pdf Datei hier
Fragen, Anregungen etc. :
Wolfgang Sedlatschek: 0172 45 34 248
Buchungsanfragen bitte nur via Mail - bitte keine Coverbands
musicstar@harksheide.de   oder  buchung@harksheide.de
des Weiteren steht schon fest: hier nachsehen.